AUSSDA Dataverse User Guide
What is the AUSSDA Dataverse?
AUSSDA Dataverse is the digital archive of AUSSDA - The Austrian Social Science Data Archive. It is based on the open source application Dataverse which has been developed by Harvard University.
You can archive, find and use AUSSDA data under https://data.aussda.at.
At the moment, the user interface is English only and new entries to the archvie are being provided primarily in English.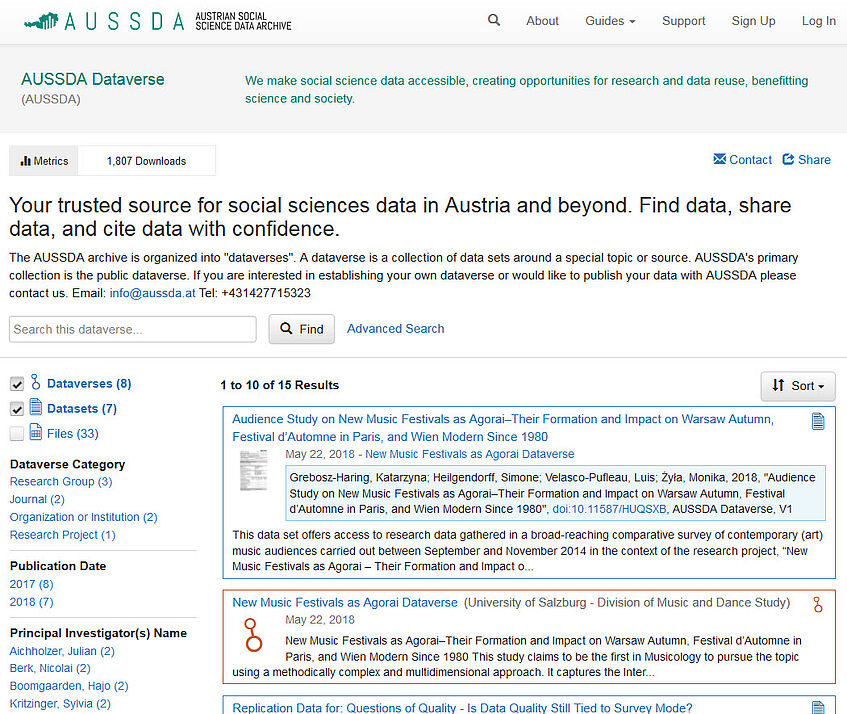 Glossary

Create an account
Sign-up: Here you can create a new account. Your password must contain: 1) At least 8 characters (passwords of at least 20 characters are exempt from all other requirements) and 2) at least 1 character from 3 of the following types: uppercase, lowercase, numeral, special
Login: Log in with your AUSSDA Dataverse username or use your institutional login. If you choose institutional login, look for the English name of your institution.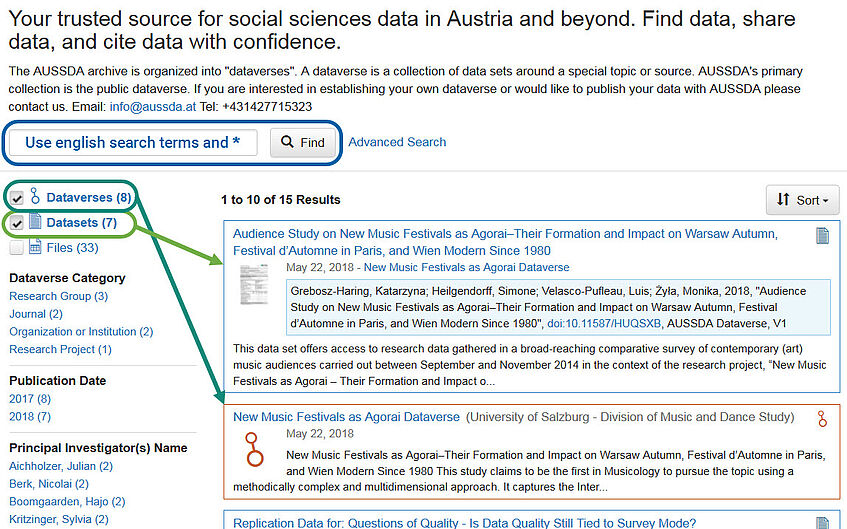 Dataverse
the name of our archival software
a "folder" for researchers, projects or journals to share and make their data available
a "folder" that can also contain other dataverses
Search
Search in English
use * to broaden your search
Dataset
can contain metadata, research data, documentations or code to be downloaded
many datasets can be provided in a single dataverse
information about files, metadata, terms and versions are provided on dataset level
Roles and permissions
Users can have different roles in different dataverses and for different datasets
no login or special permissions are needed to download CC BY licensed datasets
to access scientific use files you need to be logged in or get permission from the AUSSDA Team
Files to download
AUSSDA makes research data available in Stata (.dta), SPSS (.zsav) and tab-delimited (.tab) format
Data is assigned the categories "Data" and "STATA" or "SPSS", documentations the category "Documentation"

File naming and legend I
10007_da_en_v1_2.dta
10007 - example for an archival number
da - data file
en - English (alternatives are e.g. de - German, fr - French)
v1_2: version number (Major version: 1, minor version: 2)
.dta - STATA file
Versioning
AUSSDA versions files on two levels: 1_0 (major-minor)
Major: big changes like deletion or insertion of a variable or case leads to a major file versioning update
Minor: on this level, we differentiate between significant changes (corrections to labels or other recodings) and not significant changes (e.g. cosmetic). Not significant changes are only modified in files when a significant change is necessary.
File naming and legend II
da - Data
qu - Questionnaire
im - Interviewer manual
fr - Field report
co - Codebook
rr - Research report
mr - Method report
om - Other material
ta - table belt
te - text report, text comment
gr - graphic belt